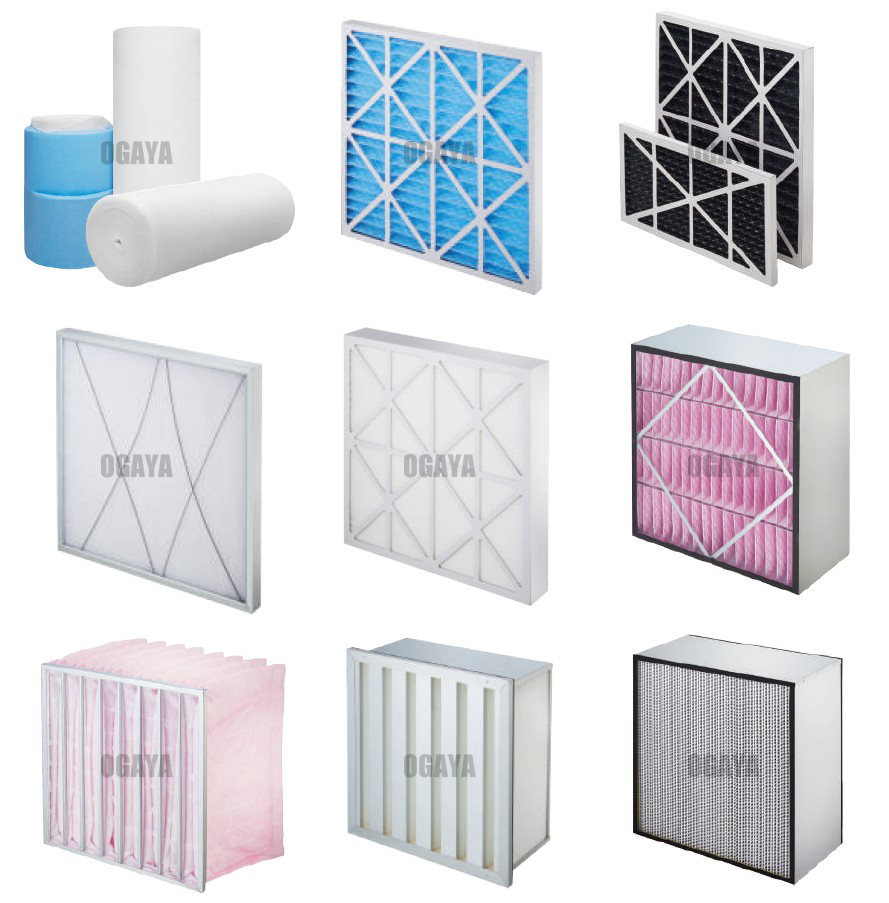 Air Filter
Selection
Advantage
Coating
Ingredients
Application
Pre-Filtration
Deodorant &


Anti-Bacterial

Main
ingredient
''Hinokitol''.
Total 25
natural
ingredients
Food
Factories、
Department
Store、
Airport、
Office、
Hotel
Secondary-
Filtration
Ditto-
Ditto-
Hospital、
Bio-Tech
Final Filters
Ditto-
Ditto-
Cleanroom
Microbial Filter-Deodorant & Anti-Bacterial
Material Overview
To inhibit microbial growth and protect the integrity of the filters media.
The natural ingredients which can reduce or eliminate odor in the air efficiently.
It kills odor from the cause which can last longer than regular product.
Hinokitol is not only working for reduce fungus and bacteria, but also removing dust mite and other harmful material from the environment.
Microbial Filter
can release
deodorant factor
into the air
Odor factor
in the air
Neutralization +
Decomposition
→Deodorization
Air Filter
Selection
Advantage
Coating
Ingredients
Application
Pre-Filtration
Deodorant &
Anti-Bacteria
Main
ingredient
''Hinokitol''.
Total 25
natural
ingredients
Food
Factories、
Department
Store、
Airport、
Office、
Hotel
Secondary-
Filtration
Ditto-
Ditto-
Hospital、
Bio-Tech
Final Filters
Ditto-
Ditto-
Cleanroom
Ingredients
Hinokitiol、Rosemary、lavender、Neem、Bamboo grass、argyi、green leaf exact、eucalyptol、jasmine、grapefruit、cinnamon, etc. Total 25 natural ingredients.
Unique-Technology
Porous Microencapsulation with special procedure.
Can help the anti-odor material to be accumulated to 14 layers and 270% o.w.f.
Can prevent the immediate odor and block it happens again.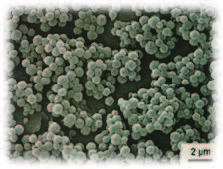 ※The capsule diameter is 2 μm with amount of 7 mm to 8 mm, which inserts and dry to the filer 7 times.
Application
Install on the outlet of air condition, fans and air purifier.
The effectiveness of reducing odor can be felt immediately.
Can kill the smell and smoke of the cigarette right away.
Where To Use ?



Comparison of deodorant < Ammonia、Hydrogen Sulfide、Trimethylamine、Methyl Mercaptan>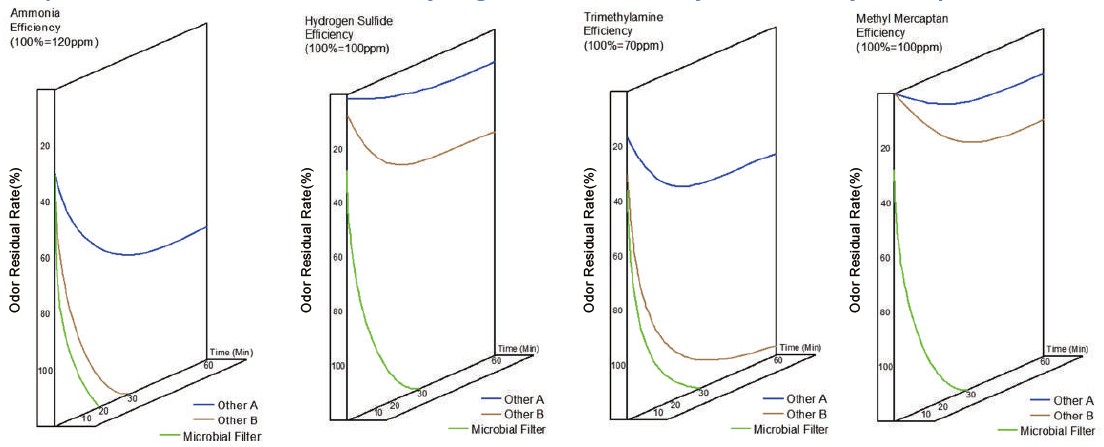 High Performance On Deodorant & Anti-Bacterial
Deodorant Performance
 
 
After 24 hours
Gas
Ini tial odor
concentration
Control odor
concentration
N=1
N=2
Methyl Mercaptan
140
83
0(100)
0(100)
Hydrogen Sulfide
320
290
0(100)
0(100)
Methyl Butyrate
27
5
0(100)
0(100)
Trimethylamine
70
53
0(100)
0(100)
Formaldehyde
50
11
0(100)
0.25(98)
Toluene
260
100
0(100)
0(100)
Alcohol
1100
420
20(95)
20(95)
Xylene
250
60
0(100)
0(100)
Styrene
300
80
1(99)
0(100)
Ammonia
960
230
1.5(99.3)
0.6(99.7)
Pyridine
55
7.5
0(100)
0(100)
Aceti c acid
65
6
0.3(95)
0.2(97)
Acetaldehyde
140
80
0(100)
0(100)
Ni cotine Stink
25
6.5
0.1(99)
0.1(99)
Unit: ppm, () is for deodorization rate (%)
Anti-Bacterial Activity
Species
Tes ting Bacteria
Effect
Bacteria
LEP
(Legionella neumophila)
V
E. coli
V
Staphylococcus aureus
V
Pyocyanin
V
Pneumoniae
V